Hello, Jaeho fans! First of all, sorry that this post is a bit late. You'll see why in just a bit. This is the Voting Post for Round 2's last challenge, Challenge #4. In case you've forgotten, the theme was
"Hero vs. Villain,"
and our two remaining writers were asked to make Yunho and Jaejoong a superhero and supervillain.
Coincidentally, both submissions are Batman!Ho/Joker!Jae. This is funny because that was exactly what I was hoping would happen *bricked* Since I am a sucker for both Yunho/Jaejoong and Batman/Joker, I have made the following image to get you more in the "mood." If you were having trouble imagining Yunho as Batman and Jaejoong as the Joker, this image will... probably not help at all.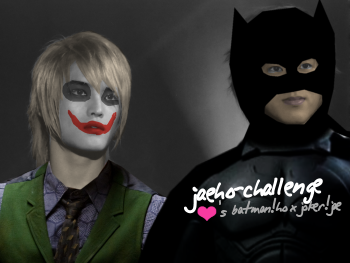 Voting for Challenge #4 will end on
Sunday August 10th at 10:59 PM EST.
Vote in a comment on this post. All comments are screened.
You will be voting for the one (1) fanfic you enjoyed THE LEAST.
You must attempt to read BOTH fanfics before voting, and do not vote based on the author you think wrote the fic, but on the fic's actual quality.
Do not vote for your own fics or reveal to anyone which fic is yours. Any author who reveals their identity before results are posted will be disqualified.
Everyone is welcome to vote, including non-members of this community. Make sure to tell your friends to come vote as well, as we need as many votes as possible!
Please fill out the following form and post it as a comment to vote:
Here are the fics, and might I add they are both AMAZING?
(
Collapse
)
Thanks for voting! Also, feel free to comment on any of the entries. Good luck, finalists!
Thanks for writing my OTP-squared.